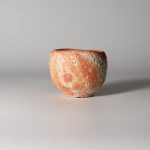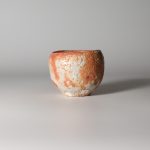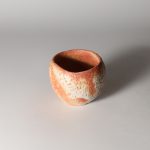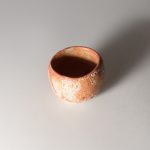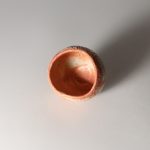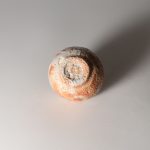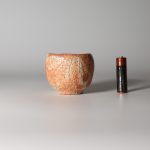 Akane Shino guinomi sake cup. Ryotaro Kato.
Size: Diameter6.9cm Width6.9cm Height5.8cm Weight90g
Akane Shino guinomi sake cup. Ryotaro Kato.
Mino Potter, Ryotaro Kato.
This item takes almost 2-3 weeks to ship after receiving order for preparing wooden box.
We would appreciate your understanding.
Profile.
1974: Born in Mino as a son of 7th Kobe Kato.
2000: Completion Kyoto city Art university, ceramic course.
2001: Start his career at Kobe Kiln.
2002: He made his own kiln.
2007: Solo exhibition at Matsuzakaya Nagoya. 2010, 2013, 2016, 2019.
2009: Solo exhibition at Osaka Takashimaya. 2012, 2015, 2019.
2010: Solo exhibition at Shibuya Kuroda Toen. 2011, 2013, 2015, 2017, 2019.
2012: Solo exhibition at Nihonbashi Takashimaya. 2015, 2018.
2015: Inherited 8th Kobe kiln.
2016: Successive Kobe kiln at Furukawa art museum.
Father and Son, ehixbition at Nihonbashi Mitsukoshi. 2020.
2017: He made Anagama kiln for Hikidashi Guro.
2018: Exhibition of Natural Black at INAX live museum.
All Shino exhibiton at Gifu art museum.
Exhibition of CASA GIFU Three at Miran Salone, Italy.
Exhibition of Fusion Kogei at Ginza Wako.
He made Nara Sansai Tenmoku for the tea ceremony of Sen Sooku "a master of Mushanokoji senke" at Kofuku temple Chukindo, re-building ceremony.
2019: Solo Exhibition and his teaceremony at Goldmark Gallery in U.K.
Exhibition of successive Kobe kiln at Toshin Mino ceramic museum.
Exhibition "tea- pray and pleasure" at Furukawa museum.
2020: Exhibition of "Space time 9" at Nihonbashi and Osaka Takashimaya.
Solo Exhibition at Tokyo American club
Exhibition at Galleria Oribe.
2021: Exhibition of woode firing kiln at Nihonbashi Takashimaya.
Please note that the actual color of the product may appear slightly different depending on your monitor or browser setting.
Please let me know if you have a problem for purchasing.
Your order would be canceled automatically if we couldn't confirm your payment.
■ Customs duties & fees ■
International customers are responsible for their country's customs fees.
Customs and other import duties are supposed to be paid by the buyer.
Please confirm your postal system for further information.
Shipping Fee,
/Shipping fee for EMS Japan Post is included to:
Australia, Canada, China, Costa Rica, Hong Kong, India, Indonesia, Israel, Macau, Malaysia, Mexio, New Zealand, Panama, Philippines, Puerto Rico, Singapore, South Korea, Taiwan, Thailand, Turkey, United States, Vietnam.
Belgium, Czech Republic, Denmark, Finland, France, Germany, Greece, Hungary, Ireland, Ireland, Netherlands, Norway, Poland, Portugal, Romania, Russia, Spain, Sweden, Switzerland, United Kingdom.
/ 3,000 Yen extra Shipping Fee to:
Brazil.