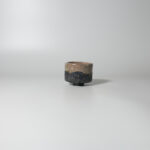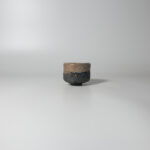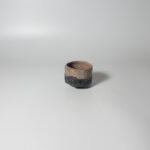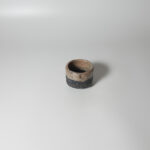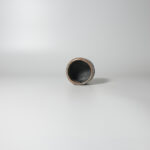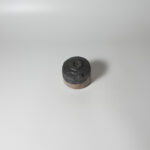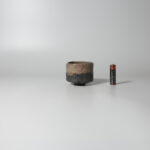 White and Black guinomi sake cup. Copy of Fujisan. Satoru Omae.
Size: Diameter6.8cm Width6.8cm Height6cm Weight86g
White and Black guinomi sake cup. Copy of Fujisan. Satoru Omae.
Satoru Oomae.
/profile
1972: Born in Osaka prefecture.
1991: Start his pottery training at Kobe city.
1994: Search and collect the soil, start making Nanban yaki.
1999: First solo Exhibition at Osaka.
2001: Moved to Shigaraki and started making "Yohen Yakishime" high-fired unglazed ceramics. Start his own exhibition all over Japan.
2003: Made undergrounded Anagama wood firing kiln.
2005: Start getting interested in Glazed ceramic, started making porcelain and Karatsu yaki.
2007: Start getting interested in Richo ceramic old Korean style, and started making Ido chawan nad Kakinoheta chawan teabowls with Anagama.
2010: Moved to Awaji island Hogo prefecture. Made under grounded Anagama, and Raku kiln. Started making Kuroraku, Black raku chawan.
2014: Made new kiln for Akaraku, Red raku chawan.
2016: Started making Shiroraku White raku made of Awaji's materials.
This item is packed in wooden box.
It takes almost 2-3 weeks to ship this work out after receiving order.
Please note that the actual color of the product may appear slightly different depending on your monitor or browser setting.
Customs duties & fees
International customers are responsible for customs fees of your country.
Customs and other import duties are supposed to be paid by the buyer.
Please confirm your postal system for further information.
Shipping Fee from Japan,
/Shipping fee for EMS Japan Post is included to:
Australia, Canada, China, Costa Rica, Hong Kong, India, Indonesia, Israel, Macau, Malaysia, Mexio, New Zealand, Panama, Philippines, Puerto Rico, Singapore, South Korea, Taiwan, Thailand, Turkey, United States, Vietnam.
Belgium, Czech Republic, Denmark, Finland, France, Germany, Greece, Hungary, Ireland, Ireland, Netherlands, Norway, Poland, Portugal, Romania, Russia, Spain, Sweden, Switzerland, United Kingdom.
/ 3,000 JPY extra Shipping Fee to:
Brazil.