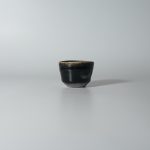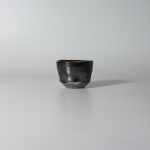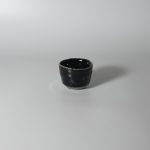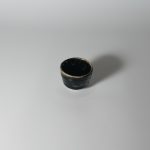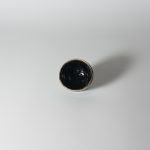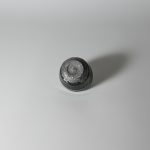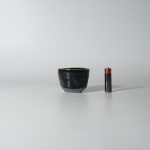 Hikidashi black guinomi sake cup. Tamba, Takeshi Shimizu.
Size: Diameter6.4cm Width6.7cm Height5cm Weight118g
Hikidashi black guinomi sake cup. Tamba, Takeshi Shimizu.
Tamba yaki potter, Keiichi Shimizu.
This item is packed in wooden box.
It takes almost 2 – 3 weeks to ship after receiving order.
We will make new wooden box when we've got your request.
-Takeshi Shimizu's profile-
1975 Born in Tahikui, Taba, Hyogo Prefecture.
1999 Graduation with Degree in Ceramics, Department of Crats, Kyoto City University of Arts.
Studied under ceramic artists Masayuki Imai, Makimasa Imai.
2005 Starts work at the Museum of Ceramic Art, Hyogo(until 2012).
2015 Have a lecture and workshop in Canada (VancouVer, Ottawa) at the request of MOFA.
2016 Have a lecture in Korea (Gimhae City) at the Japan-Korea Academic Symposium.
-Main Exhibitions/ Public Exhibitions-
2009 Tamba-Bizen Collaboration Exhibit: The 6 Old Kilns of Tamba, Bizen in the Present Day.
(Okayama Prefectural Bizen Pottery Traditional and Contemporary Art Museum).
Itami Large Sake Vessel Festival (The museum of Arts & Crafts: Itami, Hyogo).
Kobe Art Marche (Crowne Plaza Kobe, Hyogo: Every year thereafter).
2010 Biennale KUMAMOTO (Kumamoto Prefectural Museum of Art).
2011 Junintoiro (Something for Everyone) Exhibition (Gallery Midori, Tochigi).
2012 Kyoto Prefectural Art and Craft Avant-Garde Exhibit (The Museum of Kyoto).
3D Object Exhibit (Gallery Keyaki, Hyogo).
Light of Ceramic Exhibit (Kobe Lamp Museum, Hyogo).
2013 Entry, The 22nd Japan Ceramic Art Exhibition (11).
2014 Gwangju Biennale (Gwangju City, South Korea).
2015 Individual Exhibition (Contemporary Art Salon, Gallery Tosei, Osaka).
Tamba Now+ Exhibit (The museum of Ceramic Art, Hyogo).
2016 Exhibition of crats from UCCN in the field of Crafts and Folk Art (Icheon Cerapia, Korea).
2018 Entry, 35th Modeling of Tea Ceramic Exhibition (Tanabe Museum, Shimane) (15).
2018 Tea Bowl Exhibition of Gyeongsangnam-Do (South-Korea).
-Awards-
2009 The 55th All Kansai Exhibition (Osaka City Museum of Fine Arts) Honorable mention.
Kobe Biennale 2009 Modern Ceramics Exhibition (Venue Kobe Meriken Park, Hyogo) Honorable Mention.
2010 Ceramics of the Present, Hagi Grand Exhibition 2010, (Hagi Uragami Museum) Hnonorable Mention.
2011 The 57th All Kansai Exhibition (Osaka City Museum of Fine Arts) Hnorable Mention.
Kobe Biennale 2011 Modern Ceramics Exhibition (The Museum of Ceramic Art, Hyogo) Encouraged Prize.
2017 Fiscal Year 2017 Encouraged Award of arts in Hyogo Prefecture.
2018 The 7th Contemporary Tea Ceramic Exhibition Excellent Prize.
The 23rd Mino Tea Bowl Exhibition Gold Prize.
2019 The 8th Contemporary Tea Ceramic Exhibition Excellent Prize
Please note that the actual color of the product may appear slightly different depending on your monitor or browser setting.
Payment method "PayPal Only".
(You don't need to have a PayPal account.Simply click on the PayPal icon at the checkout and then choose your credit card preference and follow the prompts.)
Please let me know if you have a problem for purchasing. Your order would be canceled automatically if we couldn't confirm your payment.
■ Customs duties & fees ■
International customers are responsible for their country's customs fees.
Customs and other import duties are supposed to be paid by the buyer.
Please confirm your postal system for further information.
Shipping Fee,
/Shipping fee for EMS Japan Post is included to:
Australia, Canada, China, Costa Rica, Hong Kong, India, Indonesia, Israel, Macau, Malaysia, Mexio, New Zealand, Panama, Philippines, Puerto Rico, Singapore, South Korea, Taiwan, Thailand, Turkey, United States, Vietnam.
Belgium, Czech Republic, Denmark, Finland, France, Germany, Greece, Hungary, Ireland, Ireland, Netherlands, Norway, Poland, Portugal, Romania, Russia, Spain, Sweden, Switzerland, United Kingdom.
/ 3,000 Yen extra Shipping Fee to:
Brazil.